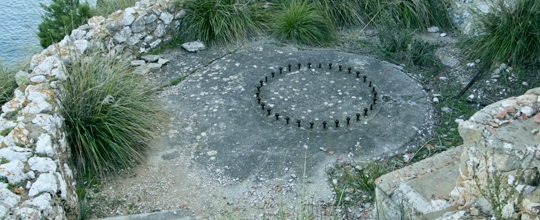 Coastal Battery Luigi Serra
Built during the First World War by the Royal Army, the battery is located on Point Filasca 51 m above sea level. Very little remains of the original building, which was an important defence point for the Golfo Aranci coast. There is little left to admire today, only a turret with a rack on which was mounted a target range detector. The targets were immediately reported to the artillery made up of four big cannons mounted on the steep cliff looking out to sea at 120°. Today, you can still see the large circular bases on which the cannons were anchored by large bolts. The station was connected to the cannons by a small trench-like path where the dispatchers would move, sheltered from any eventual gunfire. The most characteristic of the four positions is Santa Barbara, which is not particularly spacious, and completely dug into the rock. The battery was run by the IV Coastal Brigade and was one of the most strategic positions during the World Wars. It is advisable to be very careful due to the vicinity of dangerous cliffs.
The above historical data is taken from the book "Figari storie del Golfo e di Golfo Aranci" by Mario Spanu Babay. Publisher Taphros Olbia. Published in 2005. All rights reserved. May not be reproduced or distributed without express written permission from the author.